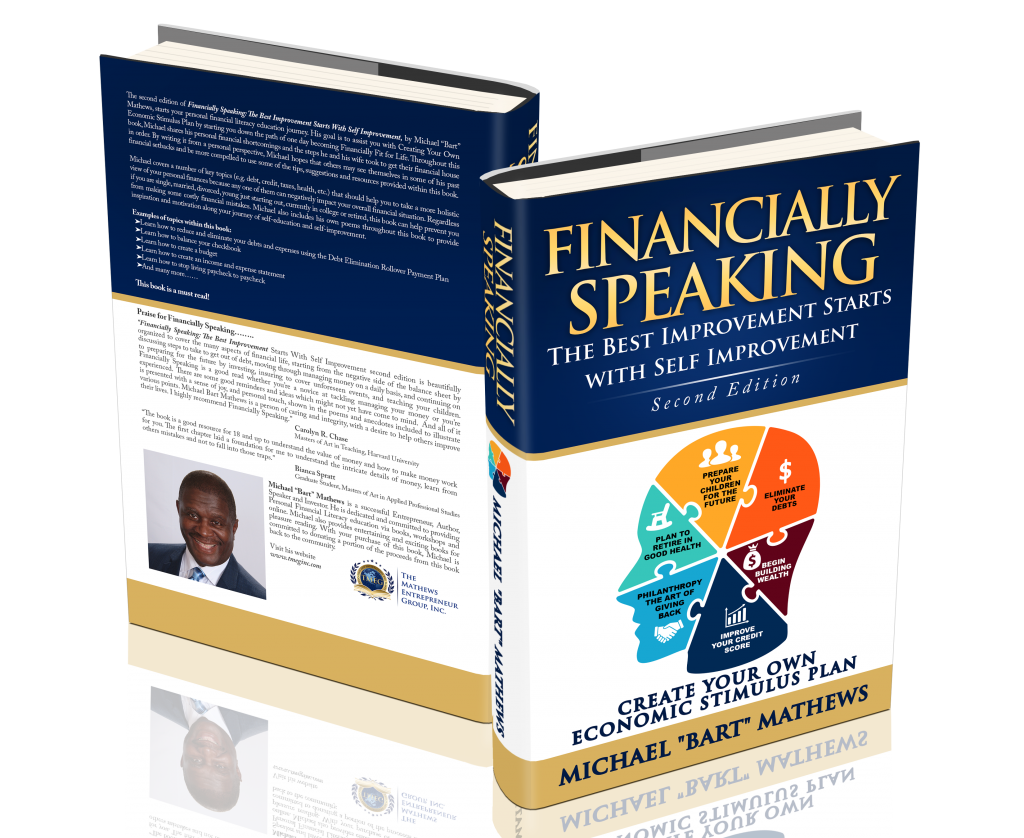 Release Date: May 1, 2016
ISBN# 978-14251-4018-2 (Paperback-$19.67)
ISBN# 978-14907-1867-5 (E-Book-$3.99)

THIS BOOK IS A MUST READ
Learn how to create your own Economic Stimulus Plan that can provide you with a roadmap to prepare for and/or improve your financial future.
Learn how to reduce and eliminate your debts and expenses using the Debt Elimination Rollover Payment Plan.
Learn how to balance your checkbook.
Learn how to create a spending plan.
Learn how to create an income and expense statement.
Learn how to stop living paycheck to paycheck.
Learn how to take charge of your credit score and history.
Learn how to pay yourself first by establishing a regular savings routine.
Learn how to plan for retirement.
Learn basic wealth building and preservation principles.
Learn that wealth without health is futile.
Learn how to change the way to think, act, feel about your money. 
Learn how to become Financially Free.
And much much more…..
Financially Speaking: The Best Improvement Starts With Self Improvement 2nd Edition
continues to contain a multitude of information that can forever change your life in a positive way by helping you
Create You Own Economic Stimulus Plan

.
It is the first component of
TMEG'S Personal Financial Literacy Education
program.
This book by Michael "Bart" Mathews starts your financial literacy education journey. Throughout the book, Michael shares his personal financial shortcomings and the steps he and his wife took to get their financial house in order. By writing it from a personal perspective, he hopes that others will see themselves in some of the situations and be more compelled to use some of the tips, suggestions and resources provided throughout this book. He wants to empower you to "hone" and "own" your personal finances.
He covers a number of key financial literacy topics and definitions such as debit, credit, taxes, health, etc. that you should understand. Anyone of them can negatively impact your overall financial picture, if you don't take a truly holistic view of your personal finances. As you read this book take a realistic view of where you are in life today and where you want to be financially and physically. There are keys to success for everyone who is searching for a better, happier and more satisfying lifestyle. Let Michael give them to you.
He also includes his own poems to inspire and motivate you along the way.
Regardless if you are single, married, divorced, young just starting out, currently in college or a recent graduate, middle aged or retired, this book will help you to correct or prevent you from making some costly and unhealthy financial mistakes.
Financially Speaking: The Best Improvement Starts With Self Improvement 2nd Edition promotes a Do-It-Yourself (DIY) Take Action approach for personal achievement, change, and success. It is a fact that ordinary people can achieve extraordinary things. Don't be defeated by past adversity.  If you want to avoid the financial pitfalls and Create Your Own Economic Stimulus Plan, the road map for change can be found in the pages of this book. This book will assist you in charting your plan of action that can start you on your journey to become Financially Free!
Remember "The Best Improvement Starts with Self-Improvement"